Cool Off at A Majorca Water Park: Top 3 Waterparks
rentalpanda
Are you up for a fun way to beat the heat this summer? Look no further than Majorca's exciting water parks! Whether you're a thrill-seeker looking for an adrenaline rush or a family searching for a day of fun in the sun, a day at a Majorca water park offers something for everyone.
With a variety of exhilarating water attractions, you'll be sure to find the perfect way to cool off and have a blast. So pack your sunscreen, grab your swimsuit, and get ready to make a splash at an awesome aqua park. Read on to discover the coolest and most exciting waterparks to visit in beautiful Majorca!
Let's go!
What's So Special About Majorca Water Parks?
Majorca is a paradise for water park enthusiasts, offering an abundance of exhilarating attractions that cater to all ages and interests. If you're wondering what's so special about water parks in Majorca, the answer lies in their unmatched combination of thrill, adventure, and relaxation! With the sun beating down and the temperature soaring, there's no better way to stay cool than by plunging into the refreshing waters of a Majorca water park.
These water parks are designed to cater to a wide range of visitors, from families with young children to adrenaline enthusiasts. They offer a wide variety of attractions, including towering water slides, wave pools, lazy rivers, and much more. The water parks Majorca have some of the most exciting water slides in Europe, such as the thrilling "Black Hole" at Aqualand El Arenal, and the super fast slides at Hidropark, among others.
>> Don't Forget To Hire Your Car Seat + Prams For Your Majorca Holiday!!
In addition to the nerve-wracking attractions, Majorca water parks also offer a range of relaxing features, such as jacuzzis, sun loungers, and shaded areas. This makes them an ideal destination for those looking for a break from the hustle and bustle of daily life. Water parks in Majorca are also highly affordable, with tickets often costing less than other tourist attractions on the island.
Now, let's have some details:
Aqualand El Arenal Waterpark
Aqualand El Arenal is one of the most popular water parks in Majorca, attracting visitors from around the world with its thrilling attractions and exciting features. This water park is situated in El Arenal, just a short drive from the bustling capital of Palma de Mallorca, and is known for its impressive array of water slides and rides.
The Aqualand Majorca water park is a must-visit for speed junkies, with its selection of heart-pumping attractions that are sure to get your pulse racing. Some of the most popular rides at this water park are the ones that take you on a thrilling journey through a giant funnel, and the "Kamikaze," which offers a steep drop and high-speed descent.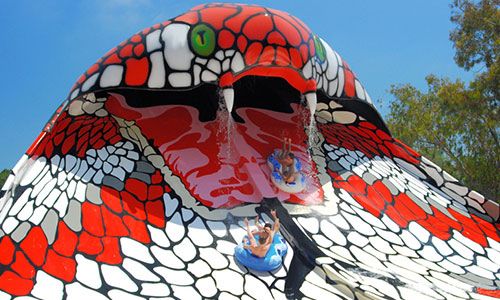 But Aqualand El Arenal has even more on offer: This water park features a variety of attractions for visitors of all ages, including quiet pools and slow-moving rivers, as well as dedicated kids' areas. The park also features a range of dining options, from fast-food outlets to sit-down restaurants, and plenty of shaded areas to relax and hang out.
Well done: One of the unique features of Aqualand Majorca is its commitment to sustainability. The park has implemented a range of initiatives to reduce its environmental impact, including the use of solar panels and a rainwater collection system.
Overall, the Aqualand is an exciting and must-visit destination for those looking for a day of fun water activities. With its impressive selection of attractions, commitment to sustainability, and convenient location, it's no wonder why Aqualand waterpark Majorca is one of the most popular parks on the island.
Western Water Park Majorca
If you're looking for a unique and exciting water park experience in Majorca, look no further than Western Water Park in Magaluf. This wild west-themed water park is one of the most popular attractions on the island, offering visitors a range of fantastic rides and amusements.
One of the standout features of Western Water Park Majorca is its impressive selection of water slides. From the "Tornado" that propels riders through a giant and extremely steep funnel, to the "Boomerang" that takes riders on a dizzying back-and-forth journey, the park has no shortage of heart-pumping thrills.
But what sets Western Water Park truly apart is its unique western theme. The park is adorned with cowboy hats, saloon doors, and other Wild West decor, creating a one-of-a-kind atmosphere that's sure to make for a memorable experience.
In terms of practical information, Western Water Park Magaluf is open from May to October, with opening times varying throughout the season. Visitors should check the park's website or call ahead for the latest information. The park also offers a range of dining options, from fast-food outlets to a sit-down restaurant, and plenty of shaded areas to relax in between rides.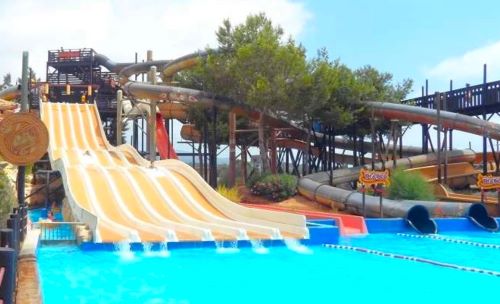 Magaluf Water Park
Are you looking for a water park in Magaluf? Well then, you're spot on here! The Western Water Park right above is also called "Magaluf Water Park" and is located only 2 minutes by taxi from Magaluf centre. So hop in, get wet, and have an amazing day in your holidays!
Is There a Santa Ponsa Water Park?
The Western Water Park in Magaluf (Majorca) is sometimes mistakenly named "Santa Ponsa Water Park". You ask yourself why? Because Santa Ponsa is just a stone's throw around the corner from Magaluf! So if your hotel is there, just take a short ride to neighbor Magaluf!
Alcudia Water Park
The Alcudia Water Park, also called Hidropark Alcudia, is one of the largest water parks in Majorca, with over 40,000 square meters of attractions and facilities. It features a wide range of water slides, including the thrilling "Tsunami," which takes riders on a steep drop at high speeds.
One of the standout features of Alcudia Water Park is its giant inflatable obstacle course, which floats on the water and challenges visitors to test their balance, agility, and strength. This unique attraction is a hit with visitors of all ages and is perfect for groups and families.
Another notable feature of the water park Alcudia (Majorca) is its focus on safety. The park employs highly trained lifeguards who oversee the attractions and enforce strict safety rules. The park also has a first-aid station and offers free life jackets for children and weak swimmers.
In terms of dining options, Alcudia Water Park has several restaurants and snack bars, serving a range of food and beverages, including pizzas, burgers, salads, and ice creams. There are also plenty of shaded areas and sun loungers for visitors to relax and take a break from the heat.
Hidropark Alcudia
As with the Western Park above, the Alcudia Water Park is called "Hidropark Alcudia" and is therefore the exact same park! However called, the Alcudia Hidropark park is a must-see once you enjoy your holiday in the northern part of Majorca!
And are you looking for the Hidropark Alcudia price? Please check their website for the most up-to-date prices.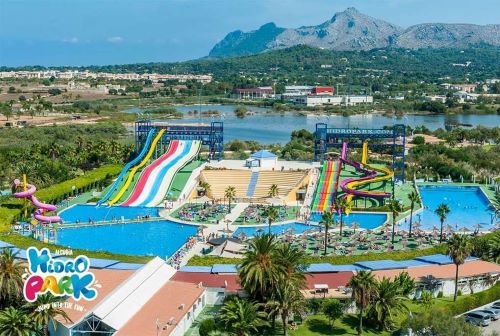 Best Water Park Majorca
According to our opinion at RentalPanda, and this is purely personal, we recommend two parks to be the best water parks in Majorca: If you are a parent with kids but also love speed and thrilling rides, then Aqualand El Arenal and Western Water Park are the best options for you.
Both parks have a variety of attractions suitable for all ages, including high-speed water slides and joyful and leisurely rides. At Aqualand El Arenal, don't miss the "King Cobra", and at Western Water Park, try the "Boomerang" for an unforgettable experience. Ultimately, the choice of which water park is the best in Majorca depends on your personal preferences and interests.
Are There Majorca Hotels with Waterpark?
Yes, there are several Majorca hotels that offer on-site water parks and are perfect for families with children. One such hotel is the Zafiro Palace Alcudia, which boasts a water park with slides, a lazy river, and a splash area. The hotel also features multiple swimming pools, including an infinity pool and a kids' pool. The Alcudia water park hotel's rooms and suites are spacious and modern, with amenities such as flat-screen TVs, minibars, and other great things.
Other Majorca hotels with water parks include the Iberostar Selection Playa de Muro Village, the Fergus Style Pollensa Park SPA, and the Club Mac Alcudia. These hotels offer a range of waterpark attractions, family tours, and activities for guests of all ages. Ask their local travel guide for more! And check out the Holiday Village Majorca at Cala Millor!
Club Mac Alcudia Reviews
Club Mac Alcudia is a family-friendly hotel located in the city of Alcudia, Majorca, close to the port. Reviews of the hotel are generally positive, with guests praising the hotel's wide range of activities and amenities, including its multiple swimming pools, water park, and children's clubs. Guests also appreciate the hotel's all-inclusive package, which includes meals and drinks.
However, some Club Mac Alcudia reviews on Tripadvisor state that the hotel's rooms and facilities are in need of updating and that the hotel can become crowded during peak season. Overall, Club Mac Alcudia is a popular choice for families looking for affordable tickets and entertaining holidays in Majorca. Another great idea: Majorca Bike Hire!
FAQ about Water Park Majorca
Any questions about water parks in Majorca? You might find your answer here!
Does Majorca have a water park?
Yes, Majorca has several water parks. The Balearic island is a paradise for water lovers, boasting four thrilling parks: Three of these water parks cater to families and offer an array of attractions, including waterslides, wave pools, and interactive play areas for children.
What is the biggest waterpark in Majorca?
Aqualand and Western Water Park both claim to be the biggest waterpark in Majorca, but it's Aqualand that has the largest surface area. With its impressive size and variety of attractions, Aqualand is a must-visit destination for anyone looking to cool off in Majorca.
Which is better Aqualand or Western Water Park?
It's hard to tell whether Aqualand or Western Park is better since both are truly amazing. However, it appears that Aqualand may have a slight edge over Western Water Park in terms of overall popularity – Aqualand has a greater number of attractions. In comparison, both parks offer a fantastic array of exciting rides and attractions.