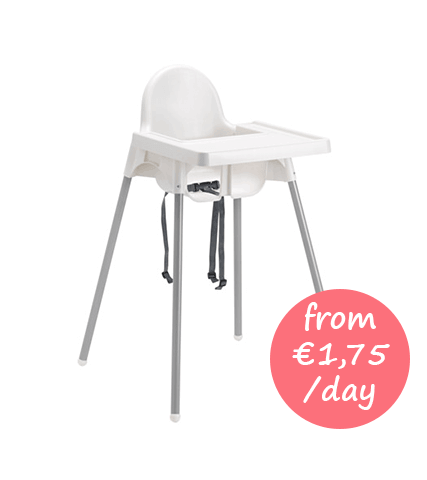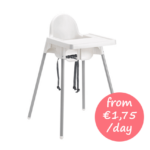 IKEA Highchair for Toddlers
At meal times your baby can sit safely and comfortably in this reliable and easy-to-clean IKEA chair. The high chair has rounded corners, a large storage area, a safe and stable stand as well as a seat belt for fastening.
Description
Prices per day
Reviews (1)
Description
This classic highchair with tray is available to rent at RentalPanda.es for babies, toddlers, and little children. Simple in design, ingenious in execution, as well as eco- and environmentally sound, it's completely recyclable (it's ultimately used for energy generation). With the IKEA high chair, your little ones can sit at the table on an equal footing, and at the same height. This also makes a decisive contribution to developing the eating and social behavior of your baby. The chair doesn't weigh much, so it can easily be positioned anywhere in the room. It's easy to take down and carry, so you can take it with you everywhere. The raised edges prevent spills on the ground, and it's extremely easy to clean. A 'must have' for any family holiday on Majorca!
Benefits:
Promotes social behavior
Pleasant, elevated seating position
Easy disassembly
Low weight
High stability
Technical details:
Weight: 2.8kg
Dimensions HWD: 90x58x62cm
Material seat & tray: Polypropylene
Material poles: Steel
For babies and children from 0.5-3 years.
3-10 days: €2,00/day
11-21 days: €1,75/day