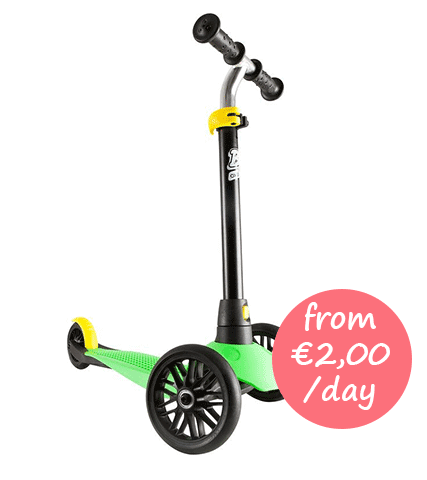 Scooter for Little Ones (2-4 years)
Little ones need fun moving around on holiday too! This super cool free wheel children's scooter is used to train balance as it is steered by shifting the weight from left to right. Compact and lightweight it's easy to carry and will give your child hours of pleasure!
Description
Prices per day
Reviews (1)
Description
This fashionable and popular scooter for little ones from 2-4 years is also called "free wheeler" and has been designed specifically for the development and training of balance and coordination skills of children from 2 years upwards. Your little ones will have loads of fun doing exercise on the move!! The children's scooter with 3 wheels is perfect to train balance, which is not fully developed in the first years of life. The two front wheels ensure a very high stability, which makes it easier to learn to ride safely in a coordinated manner. The handlebar is height adjustable (45-60cm) and there is the option of blocking the steering, so parents can handle and control the scooter better themselves. The steering rod can be dismantled very quickly and can be clamped under the scooter body, which guarantees very easy transport to anywhere! The scooter is extremely light (only 1.5kg), so your little one can push it if desired. You can even choose your little ones favourite colour of the tread! A Germany TÜV-certified safety helmet is provided free of charge by RentalPanda.
Benefits:
Lots of fun
Compact & collapsible
Only 1.5kg in weight
Safe and stable
Teaches balance and motor skills
Technical details:
Weight: 1.5kg
Dimensions with handlebar high HWD: 60x26x56
Dimensions with handlebar low HWD: 45x26x56
Diameter front wheels: 125mm
Diameter rear wheel: 100mm
Tread: 30x10cm
Suitable for children aged 2-4 years with a maximum weight of 20kg. A Germany TÜV-certified safety helmet is provided free of charge by RentalPanda. We also rent Scooters for Kids 4+ years.
3-10 days: €2,50/day
11-21 days: €2,00/day
You may also like…
DECATHLON Balance Bike 10″

This extremely sturdy yet lightweight balance bike by RentalPanda is a great way for your little one to practice balance and prepare for the real thing whilst having loads of fun! It has a special lightweight steel frame, easy steering, and extra thick tires for best stability and road adherence. With a height-adjustable saddle and handlebar, it is easy to adapt it for different leg lengths (ages 2-4).