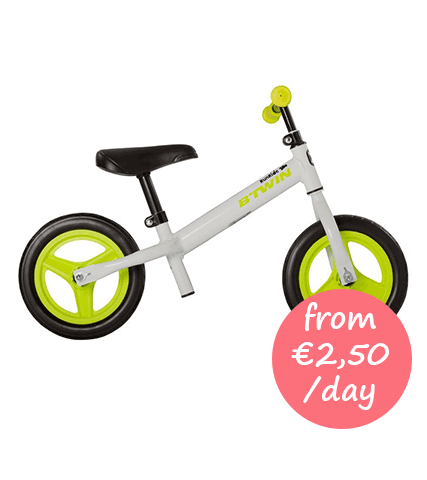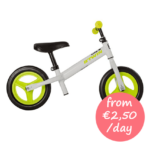 DECATHLON Balance Bike 10″
This extremely sturdy yet lightweight balance bike is a great way for your little one to practice balance and prepare for the real thing whilst having loads of fun! It has a special lightweight steel frame, easy steering, and extra thick tires for best stability and road adherence. With a height-adjustable saddle and handlebar, it is easy to adapt it for different leg lengths (ages 2-4).
NOTE: Arrival day + departure day = 2 full days of rental (neither the 1st nor the last day, the products can be rented elsewhere).
Description
Prices per day
Reviews (0)
Description
This modern DECATHLON balance bike is so much fun! It is easy to handle and provides a perfectly balanced driving experience. The rental balance bike has a low lying saddle (for better control!), an ergonomically improved handlebar, a very stable steel frame, and solid and non-slippery EVA foam tires. Without a doubt this means maximum fun for your child on Majorca! A balance bike is the ideal way to inspire children for outdoor activities – even longer tours, trips or excursions are easy. No more flat tires: no inflation is necessary, because the tires are made of a special plastic. Generally, driving a balance bike from RentalPanda.es is one of the best ways of getting around the island with kids, without getting tired quickly. The children can travel much longer and faster than with bicycles with support wheels. It is also ideal for learning and preparing for actual cycling, as, without support wheels, the child learns to keep the balance easily and gets a feeling for speed.
Benefits:
Easy to use
Very lightweight
Excellent stability
Easy to carry
No more flat tires
Technical details:
Weight: 3kg
Dimension HWL: 40x30x70cm
100% steel frame
The saddle height corresponds to the stride length of the child and can be adjusted between 33 and 41 cm.
For children between 2 to 4 years and 85-100cm size. Included: TÜV-certified safety helmet.
3-10 days: €3,00/day
11-21 days: €2,50/day