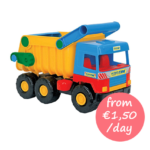 Large Dump Truck for the Beach (38cm)
Colorful dump truck made in Germany, a great beach toy for your little ones. Very durable, with a large loading area which can be tilted backwards.
Description
Prices per day
Reviews (0)
Description
A great beach toy that is really fun! Even if this toy truck is thrown around it doesn't break! It's been properly Made in Germany and there are no small plastic parts which could break off and get swallowed. The tailgate can be opened and closed by means of easy-to-operate locks, the loading area can be unlocked and tilted backwards – real fun at Mallorca's beaches guaranteed! You can even load smaller toys, or a lot of sand, onto the loading area. Your little ones will have their guaranteed joy!
Benefits:
Extra beach fun with this cool beach truck
High quality and robust
Beautifully colourful
A lot of sand fits into the loading area
Technical details:
Weight: 0.6kg
Dimensions HWD: 26x25x38cm
Material: Plastic
Suitable for children from the age of 1.5.
3-7 days: €2,00/day
8-14 days: €1,75/day
15-21 days: €1,50/day