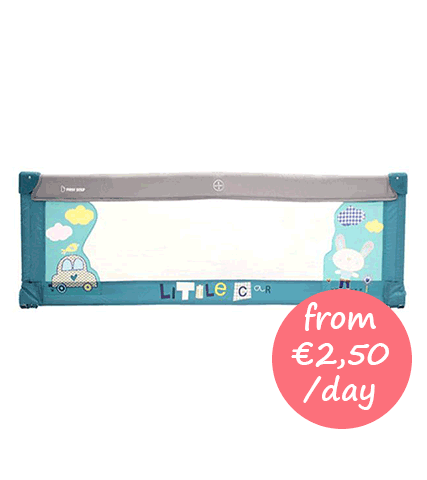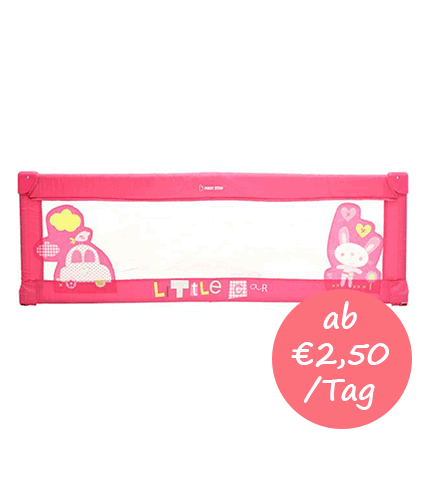 Baby Bed Rail / Protection for Baby Bed
Relaxed holidays and safe nights: with this baby bed rail your baby can't fall out of bed! The protection is simply positioned under the mattress of the bed and is easy to dismantle and fold away with a 180° folding mechanism.
Description
Prices per day
Reviews (0)
Description
Having family holidays in Majorca, parents are naturally concerned about their children's safety. Especially at night you and your little ones want to sleep as safe and peacefully as possible. At RentalPanda you can rent a practical and sufficiently large baby bed rail, which protects your baby from falling out of bed! This protector is easily fastened under the mattress and secures the bed to a length of 150cm so that your child can not fall out. The bed rail is easy to mount up and down and lets every member of your family sleep happily through the night. The product is regulated according to British standards.
Benefits:
Safety in the holiday baby bed
Impossible to fall out
Easy to put up and take down
150cm protective bed rail
Technical details:
Weight: 2.3kg
Dimensions HWD: 43x150x3cm
Material: Nylon
Frame: Steel
Suitable for babies and children of all ages.
3-7 days: €3,00/day
8-14 days: €2,75/day
15-21 days: €2,50/day
You may also like…
DECATHLON Balance Bike 10″

This extremely sturdy yet lightweight balance bike by RentalPanda is a great way for your little one to practice balance and prepare for the real thing whilst having loads of fun! It has a special lightweight steel frame, easy steering, and extra thick tires for best stability and road adherence. With a height-adjustable saddle and handlebar, it is easy to adapt it for different leg lengths (ages 2-4).