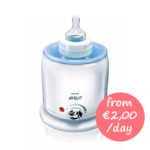 Phillips AVENT Bottle Warmer / Baby Food Warmer
Gently and safely warm any kind of baby milk or baby food in just a few minutes! Whatever the weather, your little ones can now eat at the right temperature! For baby bottles, jars, or containers.
Description
Prices per day
Reviews (0)
Description
The number 1 recommended food and bottle warmer as voted by mothers! The electric baby food heater is perfect for your bottles, food containers or jars. Mummies and daddies: be smart on Majorca: Get Your Baby Food Delivered, and heated up with our bottle and baby food warmer. In just a few minutes you'll have the perfect temperature with baby's food being warmed gently and evenly, without some part becoming too cold or too hot. RentalPanda means convenience for you as parents! Quick and easy to use: the bottle and baby food warmer warms 125 ml of milk at room temperature in only about 4 minutes. Simply add water and select the setting, there won't be any overheating, which will help to protect your baby.
Benefits:
Quick and easy to use
No overheating
Warms gently and evenly
For bottles, food containers and jars
Technical details:
Weight: 0.5kg
Dimensions HWD: 15x13x13cm
For bottles, food containers and jars for babies. Also get your baby food jars delivered by us.
3-10 days: €2,50/day
11-21 days: €2,00/day