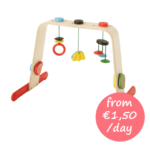 IKEA Play & Coordination Centre
High-quality play and coordination centre from IKEA, proven for many years. With powerful colours, child-oriented figures and forms, your baby's vision and coordination skills are trained.
Description
Prices per day
Reviews (0)
Description
This high-quality, wooden and plastic play and coordination centre for babies helps your little one to train their hand-eye coordination. Through the intense colour contrasts and the movements of the figures and forms, their vision is trained and stimulated. Renting Baby Equipment with RentalPanda Mallorca means combining pleasure & fun with relaxation on your family holiday! Stimulate your child and put them as often as possible under the coordination centre. IKEA has taken great care of details: the small parts can't get loose and can't be swallowed.
Benefits:
Great fun for your baby
Child-friendly figures
Improves coordination skills
Eyesight is trained
Technical details:
Weight: 1.6kg
Dimensions HWD: 25x25x15cm
Material: Wood & Plastic
Suitable for babies and toddlers from 0-18 months.
3-10 days: €1,75/day
11-21 days: €1,50/day