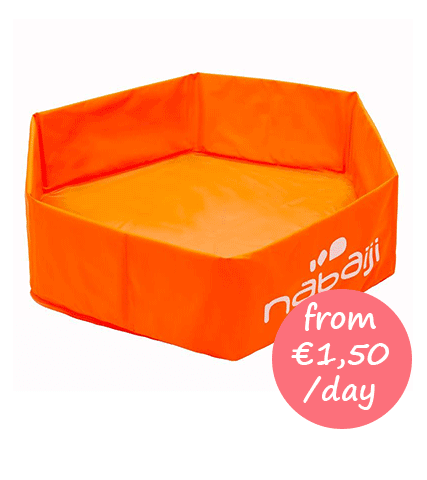 NABAIJI Baby Pool for the Youngest
Perfect at the pool or beach: your loved one has its own water to splash, and at the same time doesn't crawl into the deep water!
Description
Prices per day
Reviews (0)
Description
Ingenious, instantly built up without inflation, gives you maximum safety and fun! Seriously: when you have small children you know the nightmare: baby falls into the water and drowns. Or simply crawls with lightening speed into the water. and you can't stop it. These thoughts are gone with our Nabaiji baby swimming pool, which guarantees your baby a lot of fun with water, but keeps them from other dangers at the same time. The Babypool can easily be folded after its use and weighs almost nothing. Fits in every beach bag, Mallorca with toddlers made easy!
Benefits:
Huge beach fun also for the youngest
Very light weight
Foldable, no inflating
Fits in any bag
Technical details:
Weight: 0.4kg
Diameter: 65cm
Side height: 19cm
Capacity: 60 liters
Material: Polyethylene, PVC, Polyester
Suitable for babies and toddlers of 1-3 years.
3-10 days: €1,75/day
11-21 days: €1,50/day
You may also like…
Tricycle Baby Driver with Control Bar

A comfortable and colourful children's tricycle baby driver, with adjustable seat, steering lock and solid control bar for optimum safety control. Wide footrests provide upright support and underneath is a practical storage tray for daily shopping and storage necessities.