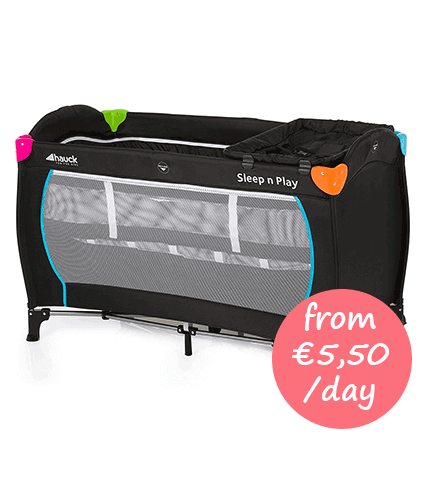 HAUCK++ Travel Cot with Changing Top and Adjustable Lie Down Area
Perfect for your little ones in Mallorca: comfortable, stable and safe HAUCK travel cot (foldable) with changing top, viewing window, height-adjustable lie down area. Suitable as a playpen. Price includes mattress and fitted sheets.
Description
Prices per day
Reviews (0)
Description
The HAUCK ++ travel bed with changing top and optional height-adjustable lie down area is just perfect for your Majorca holiday, and comes as a practical second bed in your holiday home. With it you're well equipped, because it has everything what you need for your baby.
The practical changing mat that is fixed on the travel cot allows you to swaddle your baby in a comfortable and relaxed way. It has an optional 2nd elevated lie down area where your baby is completely safe and secure, and you can take it in or out with no strains for your back!
The HAUCK ++ Sleep Center is not only ideal for sleeping, but also for playing (for example as a playpen)! Through the viewing window, you see your child at any time and the lateral exit ensures great crawling fun.
With just a few simple steps, your Mallorca travel cot from RentalPanda is set up or folded together, and with the help of the wheels it can be easily moved into any room. It comes with a washable mattress and fitted sheets. The travel cot is either new, or thoroughly cleaned and sterilized.
Benefits:
With changing top
Optional height-adjustable lie down area
Foldable with carrying bag
Very stable – German Quality!
Can be used as a playpen
Technical details:
Weight: 9.1kg
Dimensions built HWD: 82x68x125cm
Dimensions lie down area: 120x60cm
Material: polyester
For babies and children from 1 month, up to 16kg.
3-10 days: €5,75/day
11-21 days: €5,50/day