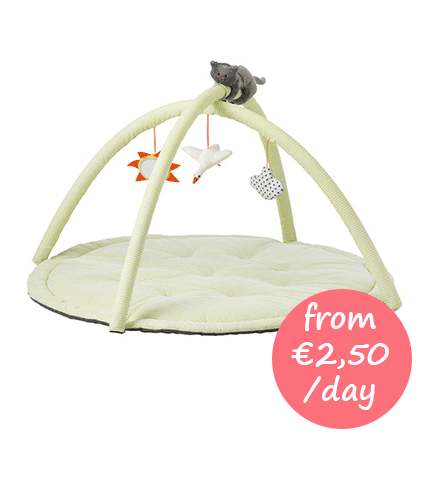 IKEA Gym & Play Mat for Babies
This popular play and gymnastics mat for babies offers a variety of stimulating fun. With playful parts and pleasing colours your little one will be constantly entertained!
Description
Prices per day
Reviews (1)
Description
Babies use their sensual impressions to comprehend the world around them. Of course, the senses are not yet fully developed, which is why it's extremely important to stimulate them. And that can be so much fun, especially during the holidays! Our modern play and gymnastic centre for babies offers varied stimuli with its different forms, surfaces and pleasing colours. Special attention has been paid to safety, as small parts can't get loose and can't be swallowed. In addition, neither mouth or gum can be injured. This means with RentalPanda.es both you and your baby will have a lot to laugh about on your Majorca holiday! Before each use the play mat is thoroughly cleaned and vapour sterilized.
Benefits:
Pleasant & child-friendly colours
Funny animals and figures
Soft material
Can be used anywhere
Technical details:
Weight: 1.0kg
Dimensions HW: 45x101cm
Mat: 100% cotton
Toys: 100% cotton
Filling: Polyester fibers
Suitable for babies and children of all ages. We also hire the IKEA Play & Coordination Centre.
3-7 days: €3,00/day
8-14 days: €2,75/day
15-21 days: €2,50/day
You may also like…
IKEA Bath Tub for Babies

Now you can also bathe your baby or your toddler on Majorca as you are used to at home. The robust build and the anatomical shape, without corners and edges, ensure maximum comfort and secure positioning of your precious one. Additional back support helps your little one to sit upright.