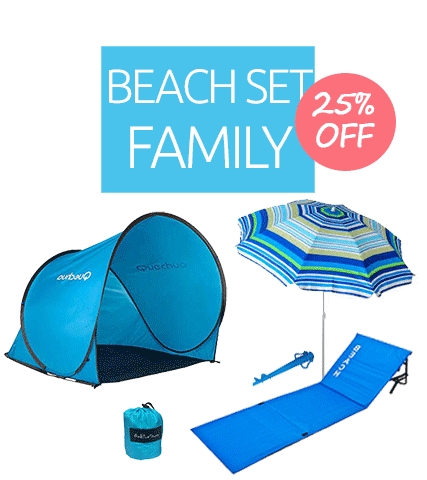 Beach Set Family
Beach Set Family consisting of 1 Quechua pop-up beach tent, 1 family beach blanket maxi size, 1 beach sun bed with backrest as well as 1 sun umbrella with anchor spike/holder.
Description
Prices per day
Reviews (1)
Description
The Beach Set Family includes the following 4 products:
1 Sun Umbrella with anchor spike/holder
3-10 days: €6,00/day
11-21 days: €5,50/day
You may also like…
Cool Boxes: 16, 24 or 40 Litres (without electricity)

Cool boxes with 16, 24 or 40 litres capacity. Great for the beach and on trips & excursions, when you are hungry, thirsty, or longing for something cold. Suitable freezer blocks are included in the rental price.