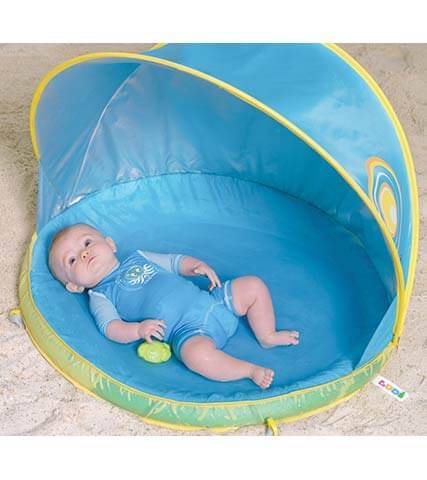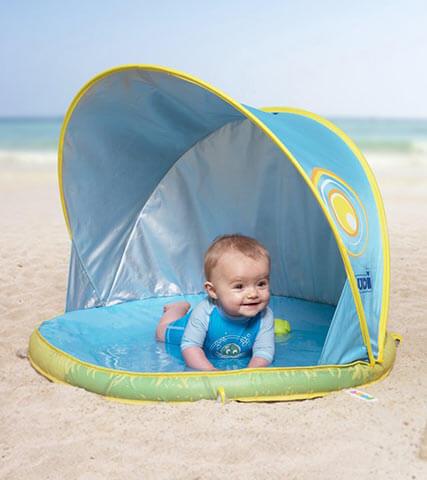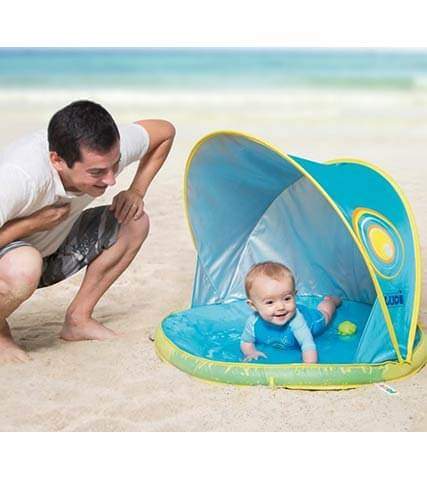 3in1 Pop Up Baby Beach-Tent w/ UV 50
Real beach fun even for the tiny ones, with safe sun protection of UV 50. Can be used just to lie down, as sandpit, or as a paddling pool.
Description
Prices per day
Reviews (0)
Description
The 3in1 baby pool with sun protection by LUDI is the perfect companion for your baby on the beach, so that it can splash and play around in a little pool, play with the sand, or just rest. Your baby is even protected from wind and can thus enjoy the sea and the beach unrestrictedly. In just a few seconds the pop up tent is open and ready to use, the nylon surface is durable and can be filled with water or sand. The roof of the rental splashing pool protects against the intense sun of Majorca with a UV protection of 50. Due to the inflatable rounded edge, your little one can't fall out the pool. Your baby will be delighted, and you too! Our RentalPanda children's pool with roof fully fulfills its purpose, can be easily folded together and carried as rucksack on your back to just everywhere.
Benefits:
Maximum pleasure for the tiny ones
Effective sun protection with UV 50
3in1: suitable as beach tent, sandbox or paddling pool
Foldable and very lightweight
Technical details:
Weight: 900g
Diameter of the surface area: 80cm
Height: 65cm
Suitable for babies and toddlers of 6-24 months.
3-10 days: €2,50/day
11-21 days: €2,00/day
You may also like…
DECATHLON Balance Bike 10″

This extremely sturdy yet lightweight balance bike by RentalPanda is a great way for your little one to practice balance and prepare for the real thing whilst having loads of fun! It has a special lightweight steel frame, easy steering, and extra thick tires for best stability and road adherence. With a height-adjustable saddle and handlebar, it is easy to adapt it for different leg lengths (ages 2-4).